Acidifiers
VITACIDEX for feed
VITACIDEX is a highly concentrated complex of organic and mineral acids in a plant active carrier. It helps breeders effectively manage the flora in their animals' digestive tract and better preserve feed quality in difficult sanitary conditions. Formulated for pigs and poultry, this powdered or liquid acidifier is added to feed or sprayed to better control the quality of the feed, promote healthy digestive function and improve feed efficiency. 
VITACIDEX is part of the Vitacid range, your alternative to antibiotics in breedings.
Decontaminating effect via bacteriostatic and bactericidal action on pathogens, with antifungal and anti-yeast properties
Decreases the buffering power and pH of feed, thus improving its bacteriological quality and storage
Controls the balance of flora in the intestine
Stimulates enzymatic activity and protein digestibility
Better absorption of nutrients
Lower mortality rates and fewer digestive disorders
Presentation: powder form for incorporation in the feed
                       liquid form for use as a spray
Packaging: Bag - Jerrycan - Drum - IBC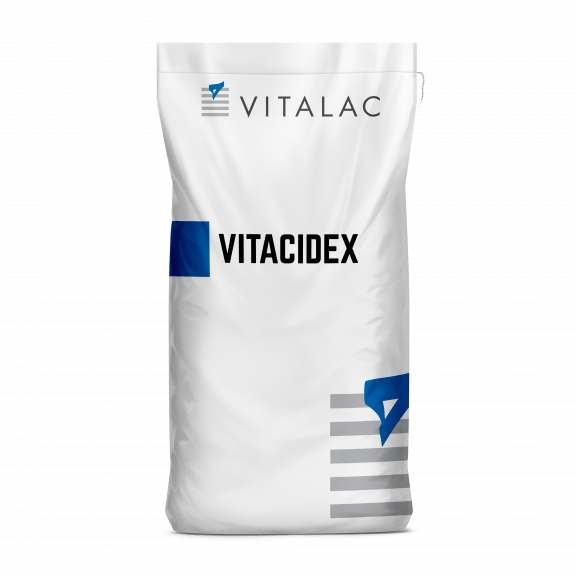 A complete and concentrated acidifier to ensure both the quality of the feed and healthy digestive function for animals
Acidification of feed impacts livestock nutrition and health in three ways: it preserves the quality and palatability of feed, manages bacterial flora in the digestive tract and improves the digestibility of proteins. The goal is to control the quality of the feed to get the most nutritional value out of it and therefore obtain optimal performances from your animals.
Ensuring healthy digestive function
Difficult sanitary conditions, a high risk of contamination or growth of pathogenic microorganisms or frequently recurring digestive disorders on your farm? Then you need VITACIDEX, a powerful and concentrated mix of organic acids and minerals. The selection of acids that make up this product creates a synergistic effect for a broad spectrum of antimicrobial activity. Each acid acts at a different pH, either immediately or in a delayed manner to protect the animal's entire digestive tract. And its thanks to that synergistic effect of its various acids, that VITACIDEX has a bacteriostatic and bactericidal action on a wide range of pathogens.
Optimise digestion
Beyond being highly effective at maintaining feed quality, VITACIDEX also plays a role in stimulating digestion via two mechanisms. The first one involves attaining optimum pH levels to stimulate enzyme activity which increases nutrient availability. The second involves stimulating cells that play a role in digestion to ensure good absorption.
Recommandations for use
VITACIDEX should be incorporated into the feed at a rate of 2 to 8 kg per tonne depending on the buffering power and physiological stage of the animals.
For piglet, grower-finisher and sow feeds: 2 to 8 kg/T.
For poultry feed: 2 to 4 kg/T. 
VITACIDEX can also be applied as a spray.
Contact Vitalac technical service for a custom dosage.