Swine feed & nutrition
Reap the benefits of the expertise at Vitalac, a company that's been supporting professionals in the livestock industry for over 30 years. As a French manufacturer, Vitalac develops high-quality mineral and nutritional solutions for pig feed. Our solutions are perfectly adapted to the nutritional requirements of animals throughout the different stages of production. They are aligned with the objectives of pig breeders.
Vitalac, a specialist in animal health & nutrition, offers reliable, effective and innovative solutions to:
Optimise performance of swine farms

Guarantee healthy animals

Control health and feeding costs

Improve profit margins
Our products for swine feed
Our specialists develop feeding products to support immune competence, health, and growth performance of your swines. Pigs require a number of essential nutrients to meet their feeding needs for maintenance, growth, reproduction, lactation, and other functions. Their feed should be rich in products that can provide essential vitamins, amino acids and minerals for them to thrive in their habitat. Our solutions are tailored to meet your pigs' exact nutritional needs.
Acidifiers
The Vitacid range for swine
A natural alternative to protect and boost digestive function and reduce the use of antibiotics in swine production. Whether in water or feed, the introduction of an acidifier will act in a targeted and complementary way with livestock as pigs, sows and piglets. This will result in improved health for your animals : better digestion, increased immunity, reduced mortality, reduced urinary tract diseases...
Complete feeds
Our complete feeds for swine
Specialists in the formulation of technical feeds for young animals to ensure growth and healthy digestive function. Feeding swine specific feed at an early age is essential to make the transition from breast milk to starter feed. Start weaning your pigs on the right foot with LACTARINE IMMUNOTEC supplement, the complete milk replacer. This animal starter feed is ideal as a supplement to breast milk. It will boost your swines' immune defenses, stimulate the digestive system and have an effect on weight at weaning and on post-weaning growth. LACTARINE IMMUNOTEC will accompany your pigs towards digestive maturity, it can be dispense to pre-weaned piglets from 3-4 days of age and in early weaning situations.
Mycotoxin binders
Mycotoxin binders for pigs
Safeguard pig feed with natural solutions that offer long-lasting effectiveness. Natural and effective solutions for long-term control on your swine production. The mycotoxin sensors are designed to ensure the food safety of your pigs, to preserve their digestion and their production level. Our mycotoxin binders for swine consist of natural products such as aluminosilicates and clays. Adsorbent substances bind mycotoxins in pigs feed and neutralize their toxicity. 
Nutritional specialties
Nutritional specialties for pigs
Discover our concentrates designed to target specific and recurring problems in swine farm. Our nutritional specialties are products that tackle specific livestock challenges during a specific stage of a swine's life. Vitalac's KARNOLAB range will respond to various problems that swine breeders may encounter, such as: Red lice in laying hens with KARNO RED dehydration with KARNO LYTE, Digestive and digestibility problems with KARNO LIVER, Vitamin and amino acid deficiencies with KARNO BOOST. The KARNO RANGE can be incorporated through drinking water or feed ration in swine's feed. 
Preservatives
Preservatives for silages, grains and rations
Our range of organic and acidifying preservatives safeguards all types of raw materials and stabilises swine feed. Our preservatives are used for grass and maize. Indeed, silage is a method of preserving fodder during which preservatives must be added to be properly preserved. Preservatives are designed to prevent the development and growth of fungi, moulds and pathogenic bacteria, and boost the performance of your swine's feed.
Supplements & minerals
Supplement formulation
High-quality supplements directly from the manufacturer, and adapted to the challenges specific to your farm. The supplements are formulated according to the type of raw materials used (wheat, corn, etc.) and their nutritional values.
Mineral formulation
At Vitalac, developing mineral solutions is central to what we do. Reap the benefits of quality pig feeds derived from specific formulations or our range of minerals.
Have a question or a request?
Programmes dedicated
to each critical stage of your swine's life
A swine's nutrient requirements change throughout the course of its life. Growing pigs do not require the same intake of nutrients as a sow in gestation. You can adapt the feed to the physiological stage - for piglets, sows, grower-finishers - with Vitalac's feed, minerals and nutritional products. Our specialists deliver innovative and effective nutrition and health solutions for each stage of a swine's life. 
It is important to prepare rations that are specifically suited to the different stages of a pig's life. Whether animals are in a period of growth, fattening, reproduction, or farrowing, each stage requires careful preparation and a re-evaluation of the nutrient needed. Delays in growth? Difficult farrowing? Stressed animals as a result of weaning? Vitalac has solutions for all these difficulties.
Flexibility and quickness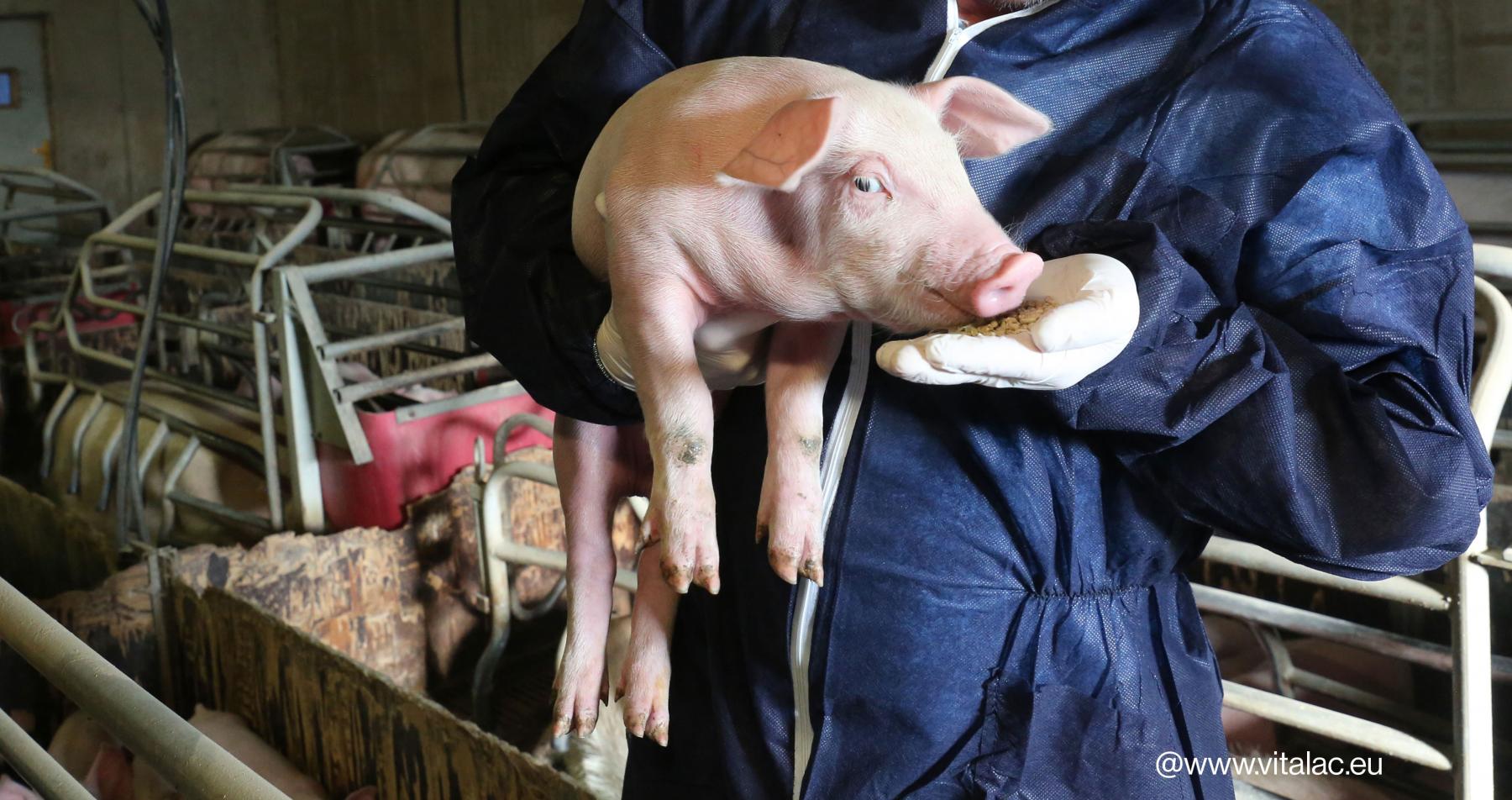 Vitalac is committed to keeping animals healthy through good nutrition and to boosting animal performances with products designed to maximise profit margins. Because we understand that your market and your needs are specific, we've developed a broad range of products and knowledge of conditions in the field to respond to all types of contexts with tailored solutions.
Study of the market context

Identification of your objectives

Tailored, flexible solutions

Technical and sales support at your customers' sites