Nutrition for pig rearing
Reap the benefits of the expertise at Vitalac, a company that's been supporting professionals in the livestock industry for over 30 years. As a French manufacturer, Vitalac develops high-quality mineral and nutritional solutions for pig feed. Our solutions are perfectly adapted to the nutritional requirements of animals throughout the different stages of production. They are aligned with the objectives of breeders.
Vitalac, a specialist in animal health & nutrition, offers reliable, effective and innovative solutions to:
Optimise performances on the farm

Guarantee healthy animals

Control production costs

Improve profit margins
Our products for pig rearing
Acidifiers
The Vitacid range
A natural alternative to protect and boost digestive function and reduce the use of antibiotics in pig rearing.
Complete feeds
Our complete feeds for piglets
Specialists in the formulation of technical feeds for young animals to ensure growth and healthy digestive function.
Mycotoxin binders
Mycotoxin binders for pigs
Safeguard pig feed with natural solutions that offer long-lasting effectiveness.
Nutritional specialties
Nutritional specialties for pigs
Discover our concentrates for treatments designed to target specific and recurring problems on farms.
Preservatives
Preservatives for silages, grains and rations
Our range of organic and acidifying preservatives safeguards all types of raw materials and stabilises feed.
Supplements & minerals
Supplement formulation
High-quality supplements directly from the manufacturer, and adapted to the challenges specific to your farm.
Mineral formulation
At Vitalac, developing mineral solutions is central to what we do. Reap the benefits of quality pig feeds derived from specific formulations or our range of minerals.
Have a question or a request?
Programmes dedicated
to each critical stage of your animals' life
A pig's nutrient requirements change throughout the course of its life. Growing piglets do not require the same intake of nutrients as a sow in gestation. You can adapt the feed to the physiological stage - for piglets, sows, grower-finishers - with Vitalac's feed, minerals and nutritional products.
It is important to prepare rations that are specifically suited to the different stages of a pig's life. Whether animals are in a period of growth, fattening, reproduction, or farrowing, each stage requires careful preparation and a re-evaluation of the nutrient content. Delays in growth? Difficult farrowing? Stressed animals as a result of weaning? Vitalac has solutions for all these difficulties.
Flexibility and quickness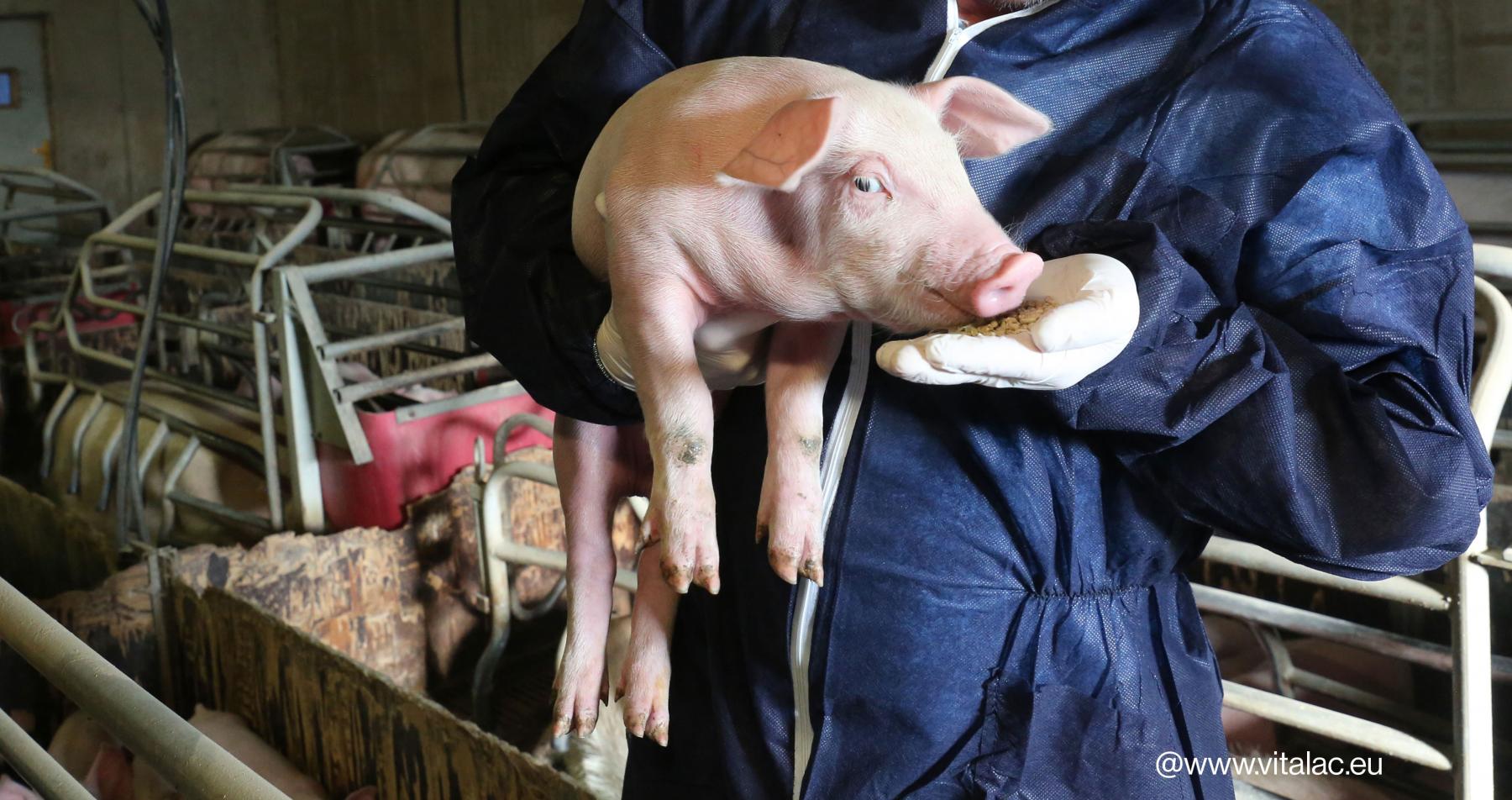 Vitalac is committed to keeping animals healthy through good nutrition and to boosting animal performances with products designed to maximise profit margins. Because we understand that your market and your needs are specific, we've developed a broad range of products and knowledge of conditions in the field to respond to all types of contexts with tailored solutions.
Study of the market context

Identification of your objectives

Tailored, flexible solutions

Technical and sales support at your customers' sites