Become a Vitalac distributor
Take advantage of the zootechnical and industrial know-how at Vitalac, a French manufacturer committed to livestock performances. Discover our mineral and nutritional solutions for farm animals, used in more than 60 countries around the world.
Reference high-quality, Made in France products
Complete your range of products with our technical, innovative and effective products
Increase your sales with products that have been tested and proven by our network of breeders
Reap the benefits of support from a committed partner
In France and abroad
A wide range of products for all types of farms
A science-driven company with a technical approach and field experience
An excellent value
Our products to suit your brand
Tailored according to your formulas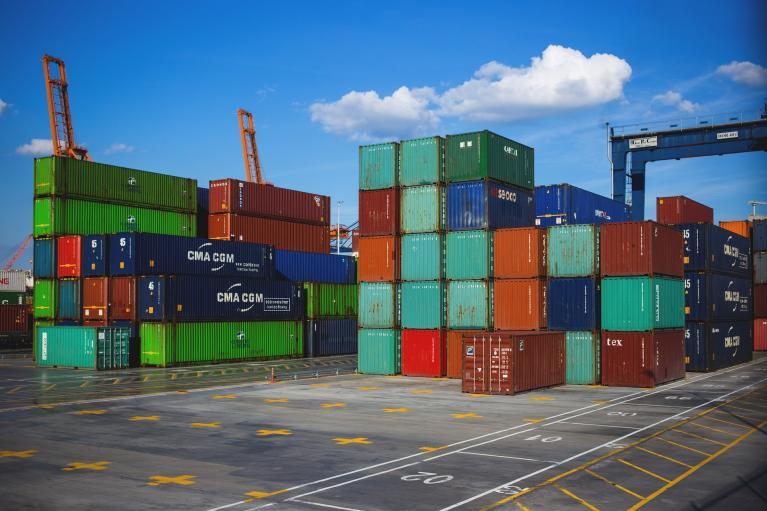 Why Vitalac?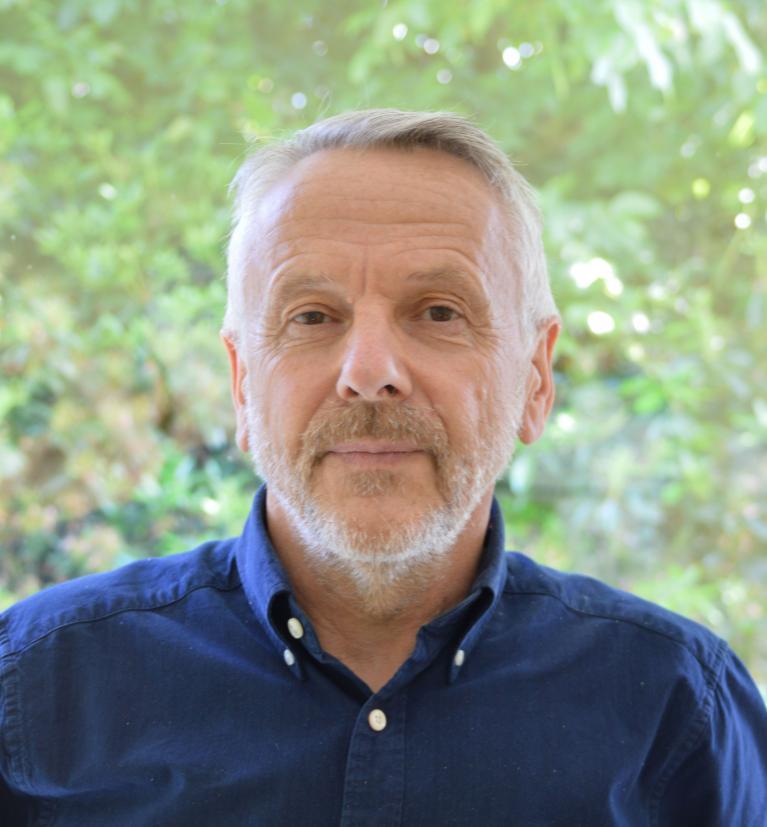 "We are lucky to be in France, a country known for the quality of its feed and its agriculture, one that is progressive in the way it tackles environmental issues and health. Since the 1990s, Vitalac has assertively set its sights on overseas markets in an aim to export and share its know-how. Today, we operate across all continents and have developed solid skills to market our products internationally."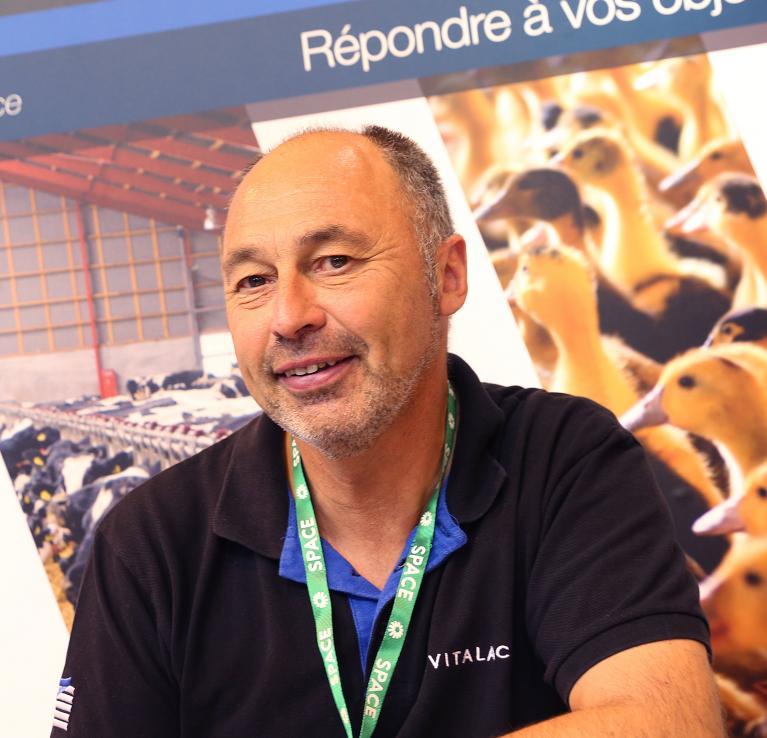 "VITALAC is an independent, family-held company which has been recognised for over 30 years in the farming industry, both in France and abroad. We devote that expertise to the distributors and manufacturers with whom we do business, and that's thanks to team members who are in tune with the reality in the field, people who are connected to the demands of our customers. Our high-performance industrial facilities help us stay ahead of our competitors for both large-scale productions and smaller, more specialised fabrications."
TOP Vitalac products
Dairy cattle
Globally recognised technical products
Beef cattle
Key products for suckler cow and fattening cattle farms
Pig
Our flagship products for pig farms
Poultry
High-performance nutritional solutions for poultry farms
Interested? Would you like to talk with us?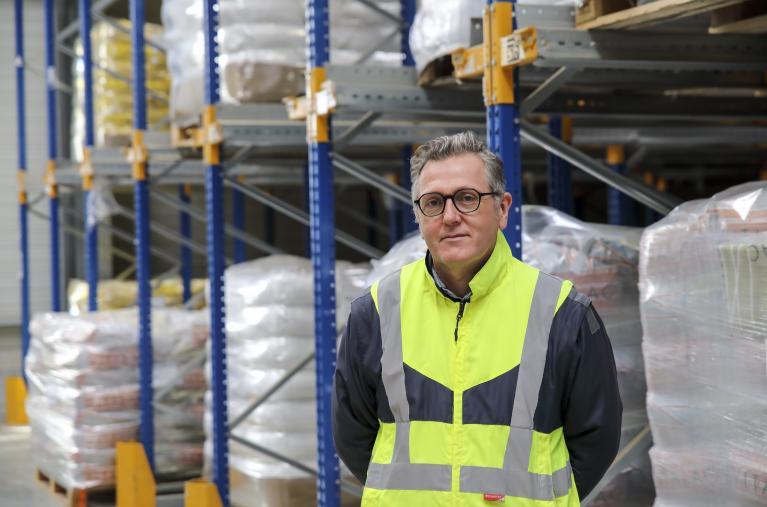 Unwavering high standards
"Manufacturing safety, high-quality products and regular investments make Vitalac a reliable company with forward-looking projects."
Bruno Loaec, Director of operations
Leading-edge facilities devoted to our customers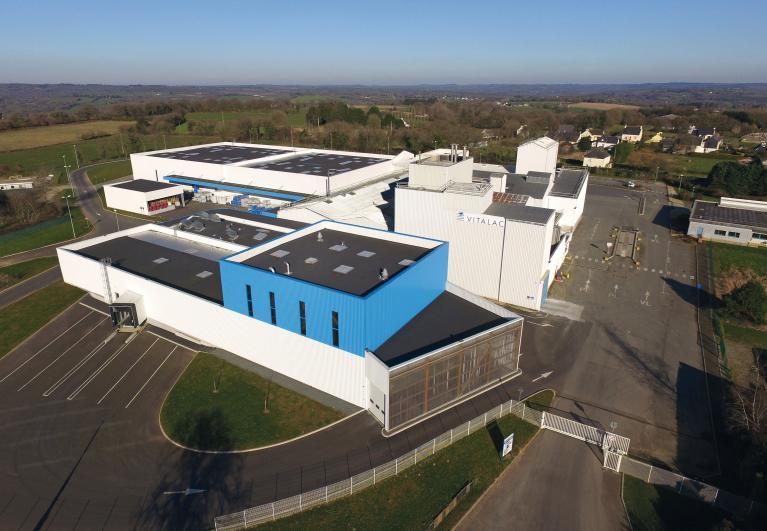 Dynamic investment
A dynamic industrial investment policy
In Brittany, in France, the historic headquarters of Vitalac, we have state-of-the-art industrial facilities, in which the company has always invested. In constant evolution, we are continually adapting to market needs. Our industrial resources have expanded along with this growth and we make yearly investments to improve both productivity and efficiency. 
"Vitalac has been able to invest in the right activity at the right time." Gaylord Thafournel, Industrial Manager
"Manufacturing safety, high-quality products and regular investments make Vitalac a reliable company with forward-looking projects." Bruno Loaec, Director of Operations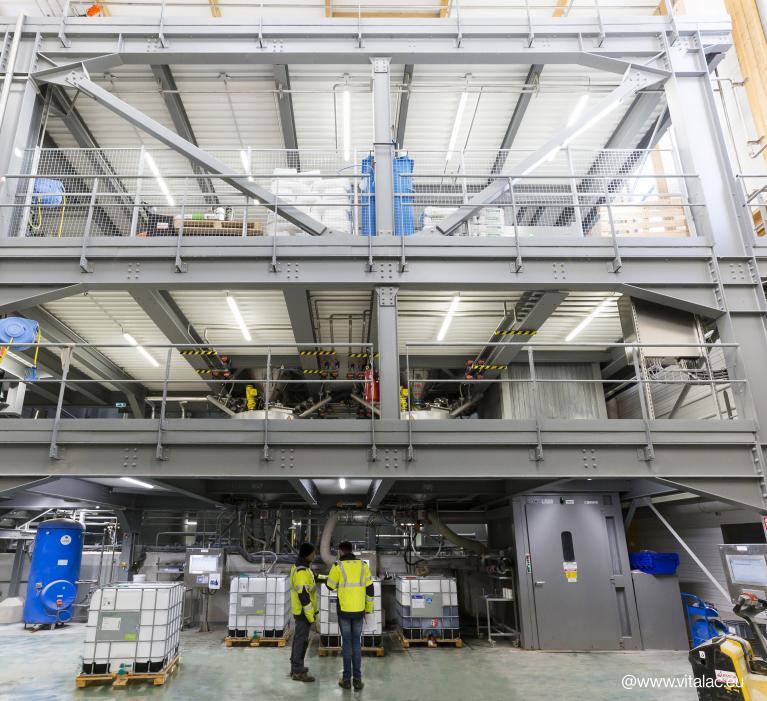 High-end equipment
High-performance production facilities
Vitalac knows how to make quality customised products thanks to both its ability to be highly adaptable and to its several production lines. There are two production units at the Vitalac site. The first is dedicated to minerals and premixes and produces 50,000 tonnes per year. The second unit is dedicated to mixing liquids and powders. It was created in 2016, entirely in 316 grade stainless steel. This workshop is one of a kind. The fact that we apply our continuous improvement policy to our material, processes, automation efforts, buildings, production units and storage is what puts us at the cutting-edge of technology. Such advances include a double rotor mixer, micro-dosing, a dense phase pneumatic conveyor to transport materials to avoid any cross-contamination, full automation and a well-suited IT system, etc.
The strength of Vitalac lies in its ability to manufacture an impressive range of products, from premixes to complete feed, including nutritional products. We can be highly flexible with regards to presentation - liquid, powder, crumb, pellet forms - and packaging - from small formats to bulk. This wide diversity must be based on fail-safe organisation and thoroughness.
"We have high-level technical resources, which means we can provide the very best quality to local farmers, distributors or industrial customers around the world." Gilbert Le Calvez, CEO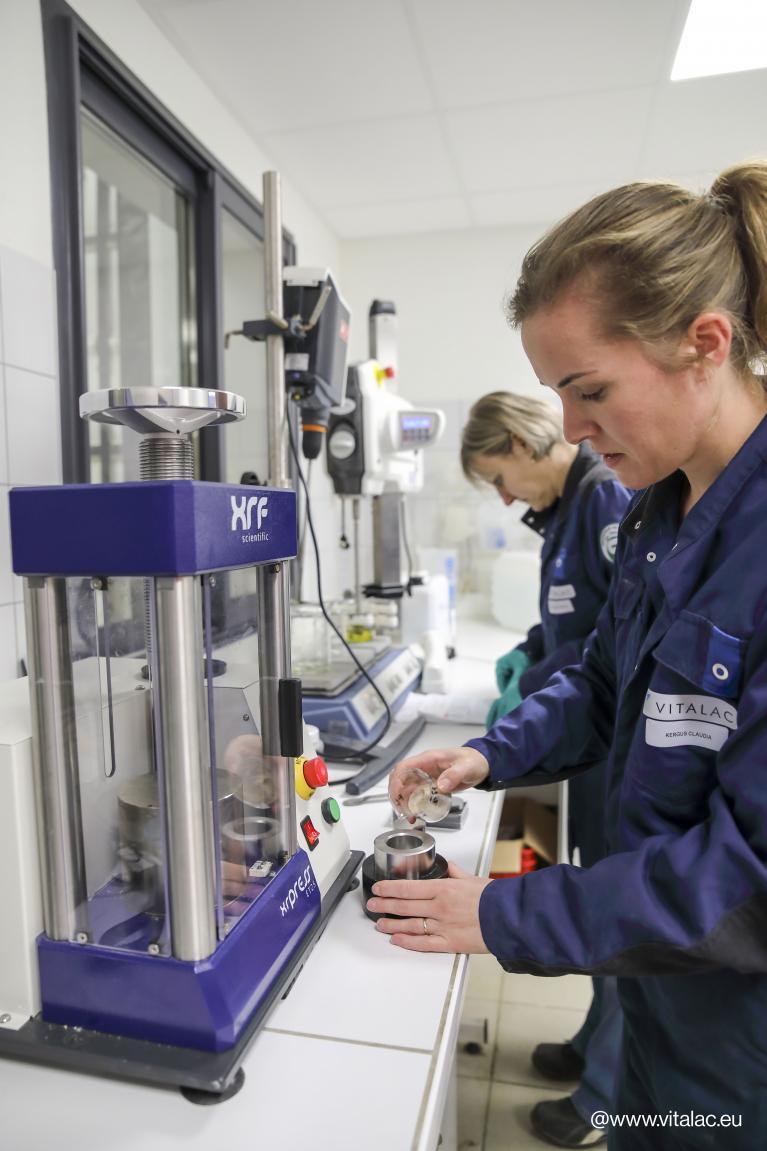 In-house analysis laboratory
An appropriate in-house analysis laboratory
Our investment in an in-house laboratory makes us highly reactive. We can therefore fulfil three missions: ensure our quality control plan, support the innovation and development of our products and provide our customers with an analysis service for personalised advice.
Our teams perform physical-chemical, biochemical or bacteriological studies on a daily basis. This represents a continuous investment in advanced equipment, such as XRF-fluorescence which measures mineral micro- and macronutrients or our Near Infrared device which analyses organic compounds (protein, starch, fat).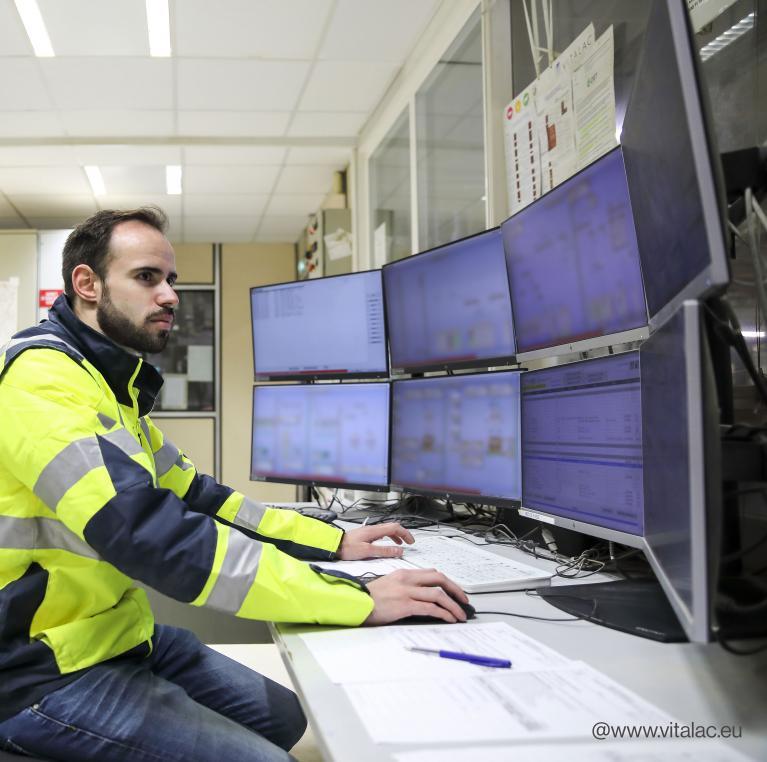 Process control
A fully automated and computerised system
In 2017, Vitalac implemented a new IT system which gives us control over the entire chain at all times: to enter orders, to make quotes, to plan, buy and manage product stocks and entries, to ensure safety and efficiency as well as a better flow of information internally. And we will carry on with the switch to a paperless system so that we continue to save time with digitalisation.  As all these steps are controlled in-house, Vitalac has optimised its logistics and has demonstrated its high responsiveness in serving its customers in France and around the world.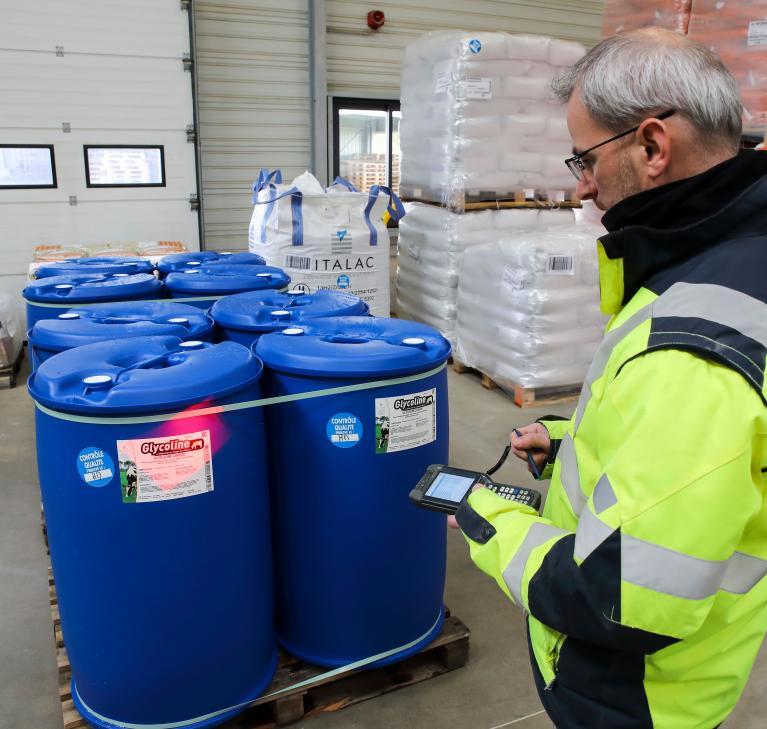 Traceability
The site is entirely safe and automated, providing full traceability and reproducibility
Thanks to our information system, we are able to guarantee the complete traceability of all our products. Working with over 400 different raw materials, the company leaves nothing to chance with a real-time location-based inventory management system (IMS). As soon any material is moved, its bar code is scanned so that it can be fully tracked. Its traceability and inventory management system positions Vitalac as one of the leaders in animal nutrition manufacturers.
Safety & Quality
A well-established QHSE strategy
At Vitalac, we have a dedicated Quality and Health/Safety/Environment (HSE) department which monitors the quality of our products, the safety of both our employees and our processes and even compliance with regulations. 
De l'entrée des matières premières sur notre site jusqu'à l'utilisation finale de nos produits chez nos clients, tout est contrôlé. Des échantillons sont prélevés tout au long de la chaîne et analysés dans notre propre laboratoire. Ces analyses nous assurent la conformité des matières premières entrantes, l'homogénéité des produits finis, l'absence de contamination, autant de critères qui garantissent une qualité et une sécurité optimales.
Ce niveau d'exigence est validé par l'obtention de toutes les certifications liées à notre métier, comme les référentiels OQUALIM et FAMI QS, ainsi que par le suivi de la satisfaction de nos clients qui constitue un indicateur essentiel pour nous. 
"Pour encadrer et développer notre politique HSE, nous avons recruté une personne dédiée. Les sujets HSE sont incontournables et sont une priorité chez Vitalac. Par exemple, un objectif important dans les mois à venir est l'amélioration de la gestion de nos déchets avec un travail sur les circuits, le recyclage, la reprise par les fournisseurs et la récupération des consommables en élevage." Bruno Loaec, Directeur des opérations