Nutritional specialties
VITAPEPS
Vitapeps is a supplement feed based on ascorbic acid (Vitamin C), a powerful antioxidant that protects the body during periods of risk. It acts a support during times of stress and infection.
Vitapeps helps to
Strengthen the body's defences

Increase immune functions and vitality

Increase resistance to infections and all kinds of stress

Favour collagen formation and functioning in the skin, cartilage and bones
Préparation : Powder 
Packaging : 5 kg bucket with plastic bag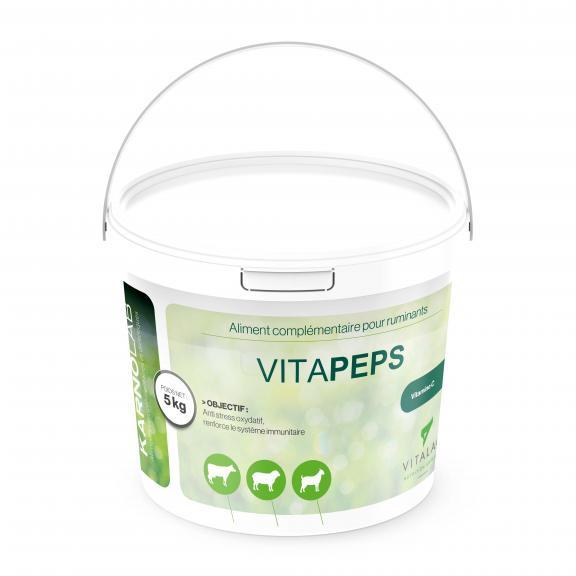 The various roles of




Vitamin C
Antioxidant action and resistance to stress
When exposed to stress, the body produces free radicals which attack cells and alter their functioning. Vitamin C, together with vitamin E, helps neutralise these free radicals and helps maintain cell integrity so that they function properly. Vitamin C helps fight against all types of stress: climatic, allotment, transport, etc.
Vitapeps contains a protected form of vitamin C which enables better product preservation.
Stimulation of the immune system and resistance to infections
Through its role in the synthesis of interferons and its effects on leukocytes, vitamin C improves the body's defence against viral or bacterial infections. A vitamin C supplement may reduce symptoms related to infections and accelerate the animal's recovery.
Also
It improves the absorption of iron in the intestine; it is essential for the production of red blood cells and the synthesis of certain hormones; it speed up healing as it helps forms collagen.
Ruminants have the capacity to synthesise vitamin C in their liver, which is why they are only given supplements when the body is under strain, e.g. infectious risks or stress.
Our recommendations 




for use
Vitapeps is used as a 3 to 5 day treatment and is mixed with the ration