Anionics salt
GLYCANION
A unique, palatable and effective liquid anionic solution for easier and safe calving.
Reduced risk of calving disorders related to hypocalcaemia, ketosis, mastitis
Improved ingestion
Improved start in lactation and milk production
Improved colostrum (milk) quality and quantity
Presentation: Liquid and powder
Packaging: Drum, IBC, bag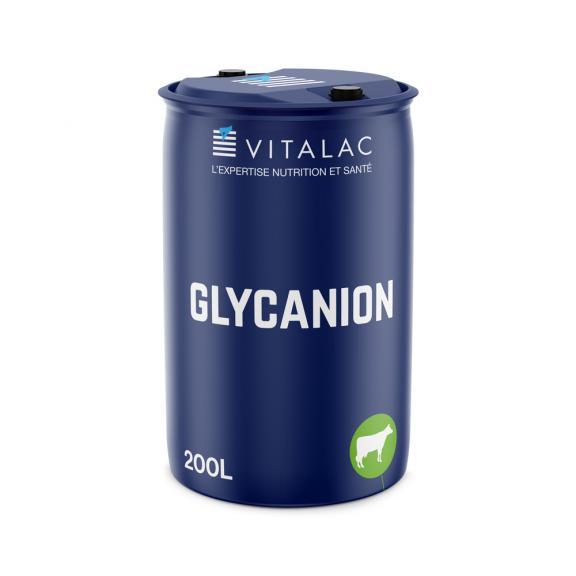 Control the preparation of calving
Safeguard calving to contribute towards a high-performance peak of lactation
Glycanion® is a dry ration feed supplement. It is in liquid form, and is a reliable and palatable solution that contains anionic salts and glucose precursors for optimal calving preparation. The incorporation of Glycanion into the feed ration safeguards the health of dairy cows and heifers by preventing the metabolic and nutritional risks associated with calving and improves performance at the start of lactation.
Prevent the risk of hypocalcaemia 
Calcaemia affects milk production. During the calving period, 50% of dairy cows, both multiparous and primiparous, will experience hypocalcaemia to a certain extent and for varying periods of time. 
Based on this observation, the calcium levels must be regulated to ensure the good health of dairy cows as well as a good start during lactation. The anionic salts contained in the Glycanion® formulation make it possible to reduce the drop in calcium levels observed around the calving period. The blood calcium level (> 85 mg/L) is optimal and to meet the needs in calcium for milk production. Health problems related to low calcium levels are also reduced: Milk fever, placental retention, metritis, weak appetite, displaced abomasum, ketosis. 
VITALAC study – 2020 calcaemia & colostrum test results
15 partner farms - Samples from 536 dairy cows 
Graph: Cumulative milk production at 60 days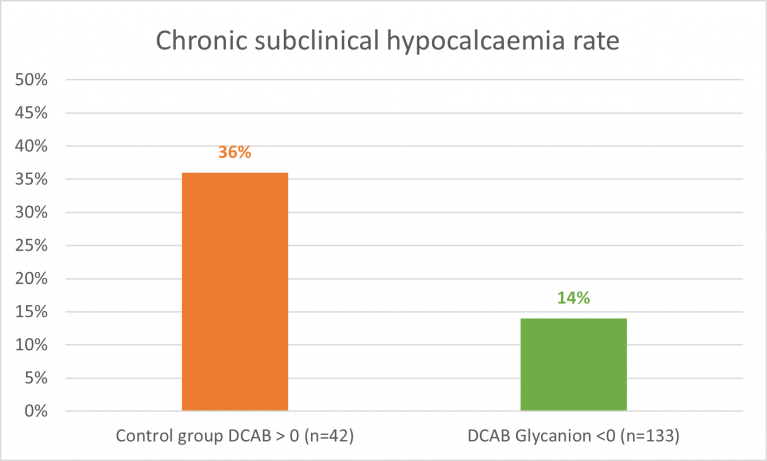 Reduce the energy deficit and avoid the risk of ketosis  
Glucose precursors play a major role during the calving period.
During the last weeks of gestation and the first month of lactation, dairy cows need high levels of energy in the form of glucose, otherwise there is a risk of acetonaemia (or ketosis). Glycanion® is formulated based on Glycoline® precursors, recognised for its effectiveness and palatability. The formulation of glucose precursors prevents energy deficits by supporting blood sugar levels and stimulating appetite. 
Anionic salts and related Glucose Precursors ensure: 
Fewer cases of difficult calving
Fewer cases of milk fever, placental retention & metritis
Reduced ketosis & displaced abomasum
Improved colostrum quality & quantity
Increased intake 
Better starts during lactation
VITALAC study – 2020 calcaemia & colostrum test results
15 partner farms - Samples from 536 dairy cows 
Graph: Colustrum quality results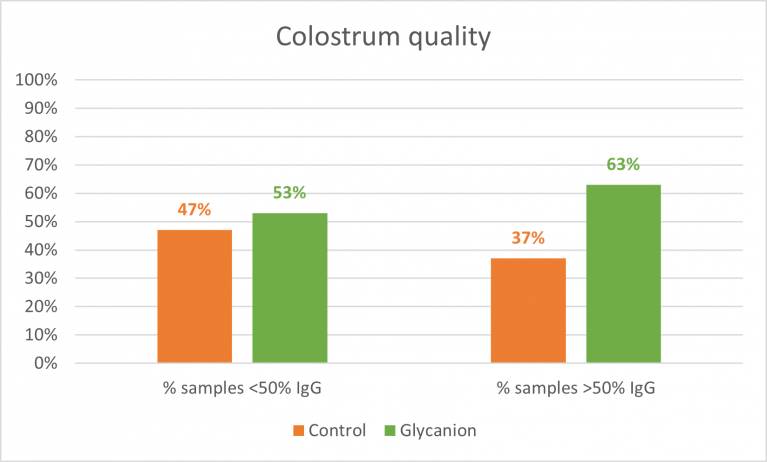 Reinforce immunity, prevent mastitis
Vitamin E intake is beneficial to the immune system as it limits disorders and pathologies during this transition period.
Fewer cases of mastitis
Reduced incidence of placental retention 
VITALAC study – 2020 calcaemia & colostrum test results
15 partner farms - Samples from 536 dairy cows 
Graph: Cumulative milk production at 60 days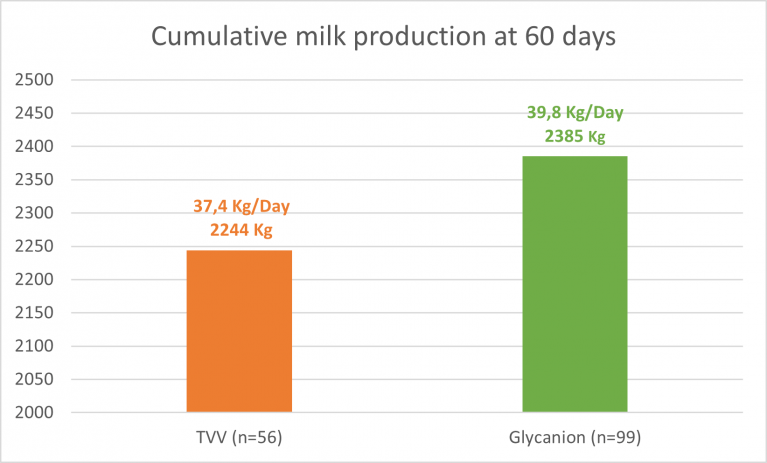 Composition
Glycanion® is a liquid formulation (brown colour - banana odour) comprised of anionic salts, glucose precursors (Glycoline® nucleus) and vitamins, to be incorporated in addition to the dry ration programme.
Anionic salts (DCAB -4900 mE/kg RM)
Glucose precursors (GLYCOLINE nucleus) 
Vitamin E = 2000 mg/kg
5.2% Ca, 2.4% Mg
Upon request, we can provide you with the Safety Data Sheet (Glycanion® SDS)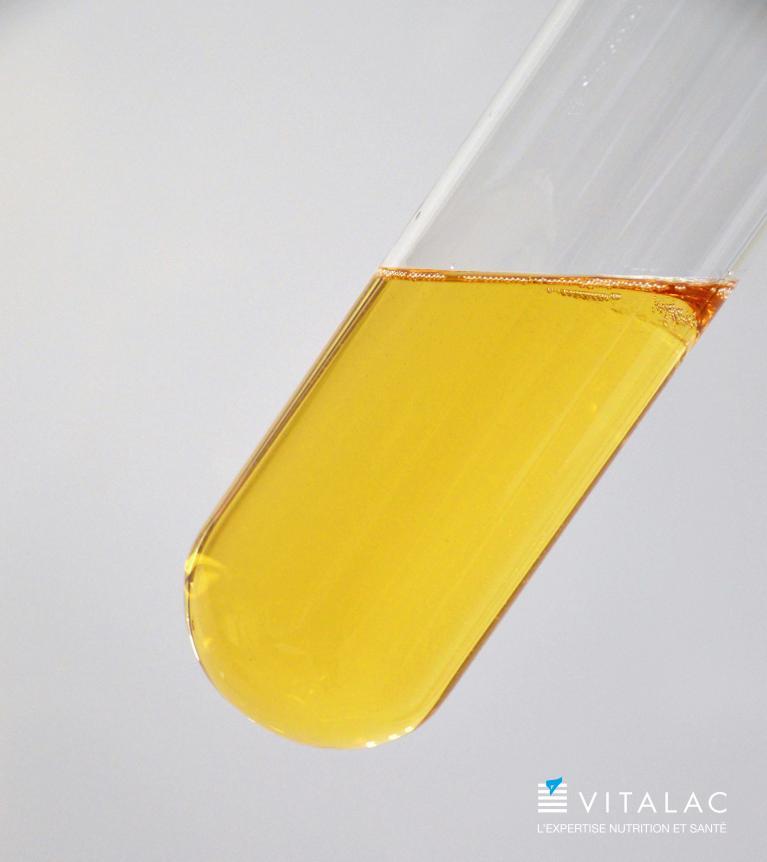 Recommendations for use
The use of Glycanion® is strictly limited to dairy cows. The recommended dose is 200 to 600ml per cow and per day in addition to the calving preparation ration. The dose should be adjusted as per the target urine pH.
To be incorporated in the feed mixer - Glycanion® improves the structure of the ration by helping the fine particles stick together
In top feeding, to be distributed over the ration using a watering can.
VITALAC provides training and field support for the best use of Glycanion®.